Music / hudba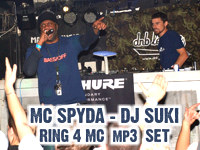 MC SPYDA (Black Tarantula), dj Suki
(MP3, 103MB)
Ring 4 Mc convention Dec. 11th 2009 - exhibition set, mastered

Dj Beast67, mc Jacob, mc R-vee
(MP3, 137MB)
Ring 4 Mc convention Apr. 10th 2009 - exhibition set, mastered

Kan-Jacca: Sonic Ignition set 2009
(MP3, 134MB)
promo set - recorded at Matrix club







For flyers, graphic / na letáky


For free use for drum and bass graphics, like flyers, cards, cds, ilustrations whatever. Rights owner DNB LEAGUE.
Please feel free use those images. They are totally freeware. Its high resolution graphics formats.
If you place our link or logo somewhere, we well be delighted, but it is not required. Feel free to dance.