Oh My Daze!
Golden Era of Jungle and Drum&Bass 1993-2005 set
DJ Impact Interview – 31.05.23

Where are you from? Could you you introduce yourself a bit?
I am a former Jungle / D&B DJ, i was active under the name DJ Impact, started in the middle of the 90s. I am born & raised in Switzerland, i live in Winterthur, close to Zürich. I was on line ups of club nights and raves all across the country on a regular pace. From time to time in other countries like CZ, CAN or UK. I started DJing around 1993 and retired 2008.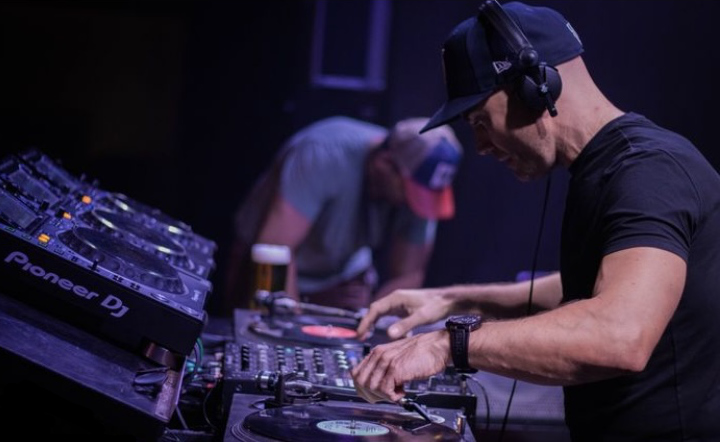 How did you made your way? Why did you start? Why D&B?
I made my way through the rave scene, happening in the early 90s. Back then I was a raver, and I got in touch with electronic music and very soon with breakbeat and jungle itself. As I was a 15 years old, I was on a concert of the almighty "The Prodigy" at red fabric in Zürich… From that night on, it was crystal clear to me, that I'm going to make music, music like this!
The little town i grew up in, had a "Jugendtreff" (youth house), there I had the possibility to use two technics turntables. from then on, I tried to save all my money to buy records, to be a DJ. By the age of 16 I played at my first illegal rave in a wood, close to Winterthur, which already had around 300 people and a month later there were 800! the scene as growing that fast, parties were getting bigger and more, so I could make my way to the stage, to the decks.
First i played a lot of happy breakbeat & hardcore, i was a young up&comming rave DJ, but I also played relaxed jungle on chill out floors of raves, before i fully committed to Jungle / D&B.
What is "OhMyDaze!"?
OMD is basically the big review of the time when I was an active Jungle / D&B DJ. You know I've been DJing for quite a long time, bought so many records, played at so many parties… but there are barely any recording, any audio evidence from back then! Even though, I reduced the number of records (all vinyl) my collection holds, there are still so many big tunes, that I never recorded in a set I've played. The idea of recording a huge set with all the big bangers from back the days – as sort of a heritage - was lingering in my mind for a very long time. Huge work obviously and I never really had the time to put into such a big project, but then suddenly, I don't know where and how, I got access to a freeware called Audacity®. I bought a soundcart and it was possible to make my idea real. During the second corona-lockdown i've made the first trials… It all started with the intro of OMD Part 1… The result was way better than expected and I got into a flow… I could not stop!
What is special about "OhMyDaze!"? Is there a special conception?
The musical concept of OMD is something special, because it's a permanent mix all the way through. There is barely a second only one record playing. It suppose to unite Jungle with D&B, there is always a «ground tune» (layer tune) from the early 90s, a real old cracker, topped with a tune from the era of 98 above, which changes every 8 bars. This is how i managed to get around 240 tunes in a 80 minutes mix. The idea has a big influence from a hip-hop DJ called Cut Killer, from France, he did something simular with his «Party Jam» Series (check that out!).
Another unique thing are the shout-outs from other artists. I think I never heard that before in a D&B set, its also a Hip Hip thing, a culture we can learn a lot from tbh. The shout-outs have the purpose to give respect and props to each other, to promote them selfes and make sure everyone is linked up after all. The whole mix is released in 5 parts with a special intro on every release. The intros suppose to be funny and educational as well, with quotes from true legends, improtant stuff for the next generation. OMD should be more than a mix, it suppose to be a listening-experience, funny and positivley emotional. The purpose of OMD is to bring back good memories for old heads, make them raise their gunfinger and say «POW!» 😉. At the same time it should connect artists to make them start projects with each other and it should be a positive history lesson for the younger generation that are interessted in our beautiful culture – OMD is the fastest way to learn about Jungle/D&B from 1993-2005… Just like Neo learned Kung-Fu in Matrix… (LOL)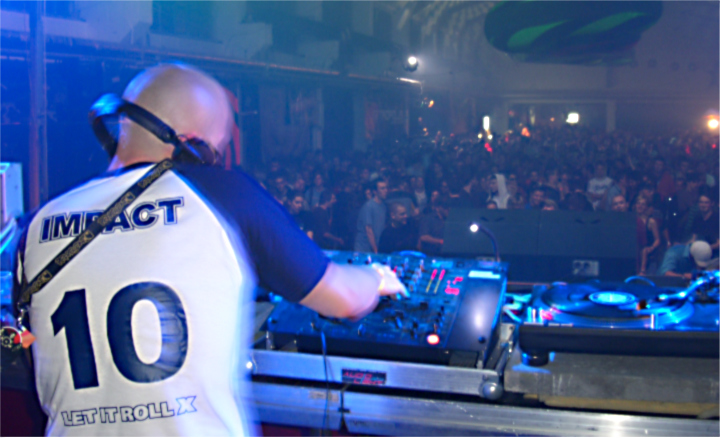 Which track from OMD Part 1 do you like the most? And how about the top 3 tracks from the entire set?
I just can't answer your question. The intro of Part 1 is surley special, that «i told you» and «Dubplate circles» double with all the snipets, that was quite a job to do but i am really happy with the result.
When it comes to «THE» tune, well, «Titan» must be mentioned! This tune had such a big impact as it got released, game changing! To me, «Spiritual Aura» from DJ Rap is also a all time favourites, thats why i looped it to eternity.
How long were you working on this Golden Era Mix? How did you select the tunes?
Well, from the first trial to the release of part 5… More than a year, one and a half! I was working on the mix itself almost a year, I was doing it piece by piece, during the week, beside working, when i came home from the office… i recorded a few drops, cutted them on the weekends, when i was in the mood… TBH I took all the time in the world, the selection just came by pulling vinyl out of my collection, you know, I was just flicking through my vinyls. Sounds strange but it was an emotional thing to do to me, but like i sayed, i got into a flow that came from positive memories. Music is the one time machine, fuckin' hell!
Why the release is in 5 parts? Where will it be available?
My intension was, to get it mastered after I finished it and then just release it on Mixcloud or SoundCloud. Simple. But I used help for the mastering, so I called my friend and super skilled sound engineer DJ Ryck. As he heard the whole OMD, he told me not to release it in one piece, because there is too much happening in the mix. The tunes change too fast what makes it nervous and it's craving too much on old emotions, it's like an overdose he sayed (LOL)!
Ryck suggested to release it in parts, and he also gave me the advice to finish this whole project as proper as possible, because it's a «once-in-a-lifetime kind of project» you know. Make it with conception of cover, tracklists, release date aso. …and Ryck was right (Big up Ryck!) 😉 The release in 5 parts suppose to make it more accessible, enjoyable and entertaining. I hope people enjoy it just as much as I enjoyed to mix it. All parts will be on Soundcloud /Mixcloud as well as the whole mix obviously, plus I will probably upload it to media fire so it can be downloaded as MP3 as well, but that has to happen yet.
What was the jungle scene like in Switzerland and how is it different from today?
Well, the 90s man, the 90s were crazy and all the techno house jungle movement was going off like a rocket! The parties were getting bigger and bigger, the scene stronger and stronger and then the people and the whole community was constantly growing. It was the start of something new and it was crazy to experience that!
You cant compare the scene nowadays with back then, we live in different times now. For sure nowadays scene is smaller but its strong! And its so nice to see that its going strong, there are a lot of new crews, as well as still active old crews. There is still a good vibe, although the music changed a bit and made progress. Its good to see that there are a lot of people that are having an active part in pushing it forward, in pushing Drum&Bass in Switzerland forward! Big Up! Big up all of the crews!
I think its important to know, where our beautiful culture is comming from, to know about the roots. Thats why i used a lot of quotes and snipets from documetaries about Jungle and D&B in the intros of OMD. If you dont know but wanna know, these are a musts to see on YouTube:

«Channel 4 jungle music documentary»
«Jungle Fever – BBC 2 documentary»
«Dj Rap – The female DJ that started it all»

You say D&B has changed, what do you miss in today's drum and bass?
….Hmmm I cannot say there is something I miss. I can say it has changed and it has also progressed in its way, that is absolutley positive. Nowadays beats are very clean, way cleaner, all the samples and snares, the basslines, it's much more clinical. You know, in compare to the old tunes, it's now more precise, arranged with more determination and discipline… hard to find the right words to describe tho. Maybe sometimes and I miss a little bit of the dirty touch that some old tunes have, a kind of vibe. The party vibe was more in the center of attention, you know what i mean? but it's totally good the way it is, there is a crowd who absolutely loves it, when I go to parties, I clearly recognise that there is lots of vibe! What i think is a curse & blessing at the same time, is the digitalization of music. When it comes to that, i'm totally oldschool. Everyone can publish a tune, thats basically positive, that wasnt easy back in the days. But there are too many tunes available all the time, i think its really hard to find «your style» as a DJ today. I would take the piss, thats why I lay my hands on vinyl only.
Antother negative thing of the digitalization is that (some) DJ's dont even now the name of the tune/producer/label they play, thats a real shame.
You still go out to D&B parties?
Yes I still go to the clubs and i still go to D&B nights, but I leave way earlier than I used to (LOL)…
Who are your favorite dnb producers?
Honestly i am not as up to date as i used to be, when it comes to record releases and producers. There is a lot of modern stuff that I really like, for example S.P.Y or the 4am KRU, i absolutley love their tunes!!
But when it comes to my era, it's has to be down to one of the three RAP, HYPE and ANDY C including all of their lable crew. All of them had a huge impact on my Jungle and D&B taste.
Your greatest dnb experience?
That's a hard call! Well, there are so many good moments that I remember started from raving at Bagley's, listen to One Nation tapes in my first car, being a member of the drum and bass scene itself, playing at basically all clubs of Switzerland… And of course playing in Czech Republic on an almost regular pace!
I've met so many people, had such a good time, learned such important lessons. That was all so nice and i am deeply greatful I could make these experiences, they will accompany me for all of my life. At this point I want to send out a big «thank you» to everyone who supported me all the way through, shared laughter with me, danced while i was playing… One Love.


Listen Oh My Daze! here: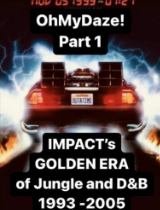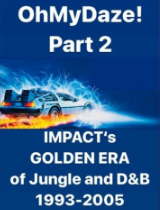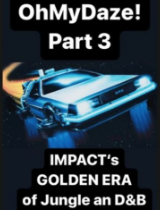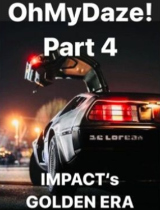 Part 4 will be relleased on Friday June 23rd 2023. Full set will be published here in September 2003.
Come back!